Режиссер: Francesco Fanelli
В ролях: Rita Faltoyano, Toni Ribas, Alex Forte
Описание: The three of them go out to sea on a chartered ship along with Rita Faltoyano and company. While Claudia and the gang return to the beach, Rita has her hands full with two guys. The flirting leads to a full-blown threesome. Rita is no stranger at threesomes on the high seas as her scenes with Private suggests. Anyway, she lets them get at all her holes leading to the double penetration. In the end, she takes their population pudding on her face. This is a very nice and hot scene!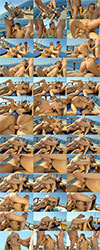 Год выхода: 2007
Выпущено: Europe / Pink'o (Marc Dorcel, Goldlight)
Жанр: Gonzo, Anal, Double Penetration, Big Boobs, Oral, BlowJob