Режиссер: Max Schneider, John Walton
В ролях: Bailee (as Bailey), Bob Terminator
Описание: Bailee was waiting all day long for Bob Terminator to come home. She had a real surprise prepared for him. As soon as Bob stepped in Bailee started taking her clothes off to reveal her sexy boobs, her round ass, and her juicy cunt. Bailee didn't have to wait too long for Bob's reaction. He just approached her and fucked her hard. Watch and enjoy!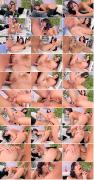 Год выхода: 2011
Выпущено: USA / Digital Sin (21 Sextury, New Sensations)
Жанр: Gonzo, Anal, Big Dick, Facial, Oral, Blowjob, Cumshots